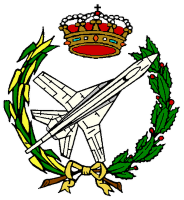 The pedagogical debate on the educational use of blogs, training perspective, has led to the development of multiple innovative educational experiences. In the EUITA of UPM , for this course, se añade una más en la que se usa el Blog as a notebook computer, a digital approximation techniques cooperative learning.
This experience takes place in a Subject: "Graphic Expression in the Engineering" (regulated in a course of Aeronautical Engineering), during the second semester and first-year group.
This page, besides presenting the experience, aporta información y enlaces sobre recursos de interés relacionados con la misma. Será actualizada para incorporar otros que se estimen necesarios y todo aquello que se demande a medida que se desarrolle el proceso, forming a reference for new experiences.
Parallel, using the page creation functionality offered by the platform, be assigned a specific page labeled "Educational Blogs" ( available in the sidebar ) and organizational resources of the participants. En esta página se incorporan los enlaces a los diferentes blogs. In each of them involving four to five students, have formed working groups freely.
The first activities should be aimed at establishing links between participants, enabling the allocation of roles and group performance. In subsequent entries detailing the same.
Periódicamente se promocionaran aquellos blogs que aporten aspectos de interés reseñables, using the label [Experimental Blogs] for identification. The content will be free or directed, but always be framed in the relevant subject, its contents, methodologies and applications.
Creativity, care quality and presentation should guide the evaluation of the work from the educational point of view, the particular interest of the participants can bring new ideas and experiences enrich future.
I invite you to continue this experience in open in which, as a starting point for discussion, proposes a reading of ideas and recommendations on educational blogs. The interaction with agents external to the university, participation by the comments added new variables of high interest training.
One question leads the experience, Can you improve the dynamic active?
And if you do, What aspects?


Related
¿Paper's blog? The students' work
Educational use of blogs
Blogs and Education
This experiment is carried out within the research activity in teaching methodologies, del grupo de innovación educativa VGG. Polytechnic University of Madrid (UPM)


Other projects published
Active Learning: Bridges with chopsticks
Active methods such as improved spatial vision